The University of Granada
CENTRO DE LENGUAS MODERNAS
ONLINE SPANISH LANGUAGE COURSES
Would you like to learn Spanish from the comfort of your home? The Centro de Lenguas Modernas' online courses bring the world of Spanish language and culture straight to you! Read and watch below for more information.
SPANISH LANGUAGE COURSES
Intensive Spanish Course 60-hour courses beginning every month so you can start learning upon any time throughout the year.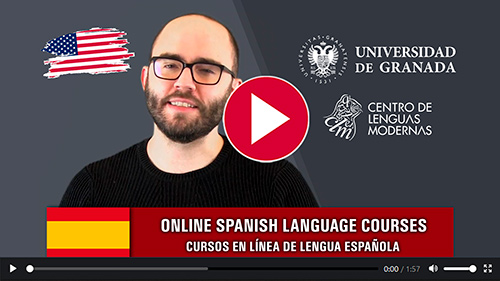 SPANISH LANGUAGE AND CULTURE COURSES
What can CLM offer you?
Classes that are 100% accredited and adapted to your schedule and time zone
Language level test to ensure the classes meet your linguistic needs
Groups with a minimum of 6 and maximum of 10 students
Continuous supervision and feedback by your professor during your learning process
Official credits offered by the University of Granada
Distance learning that closes the gap
CONTACT US WITH ANY QUESTIONS OR COMMENTS

Thanks for choosing the CLM for your language learning!
---
This message is intended exclusively for its addressee and may contain information that is CONFIDENTIAL and protected by professional privilege. If you are not the intended recipient you are hereby notified that any dissemination, copy or disclosure of this communication is strictly prohibited by law. If this message has been received in error, please immediately notify us via this e-mail and delete. In accordance with the provisions of Regulation (EU) 2016/679 of 27 April 2016, general data protection regulation (GDPR), we inform you that the person responsible for your personal data including your email address is FORMACIÓN Y GESTIÓN DE GRANADA SL / CENTRO DE LENGUAS MODERNAS that will treat them with the purpose of maintaining the established relationship and send you by any means, including electronic means, information about our services and activities. The legitimate basis for the processing is the consent of the interested party. The data will be kept as long as there is a mutual interest for it and the user does not request its deletion. The data will not be disclosed to third parties, unless legally required. No international data transfers will be made. We inform you that you can exercise your rights of access, rectification, portability and deletion of your data and those of limitation and opposition to its processing as indicated in the additional information. If you consider that the processing does not comply with the regulations in force, you may file a complaint with the supervisory authority at
www.agpd.es
. You can access the additional information on data processing and exercise of rights on our web page
https://clm-granada.com/privacy-policy/
In accordance with the provisions of Law 34/2002, of July 11, 2002, on information society services and electronic commerce, if you do not wish to continue receiving our promotional correspondence, please send an e-mail to
info@clm.ugr.es
from the address at which you no longer wish to receive information from us, specifying "unsubscribe communications" in the subject line of the message.